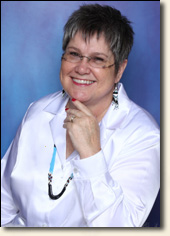 Sara Sue Hoklotubbe is a Cherokee tribal citizen who grew up on the banks of Lake Eucha in northeastern Oklahoma, and uses that location as the setting for her mystery novels. She inherited her storytelling skills from her father who could tell the greatest fish story in Delaware County, and gained her appreciation for her heritage from her Cherokee grandmother. Their lessons of love and life are reflected in Sara's writing today.

Sara was named Writer of the Year by Wordcraft Circle of Native Writers and Storytellers for her first book, DECEPTION ON ALL ACCOUNTS, published by The University of Arizona Press. She is a member of Mystery Writers of America, Sisters in Crime, Oklahoma Writers' Federation, Inc., and Tulsa Night Writers.

Sara is married to the man of her dreams and credits her success as a writer to him. The Hoklotubbes divide their time between Oklahoma and Colorado.